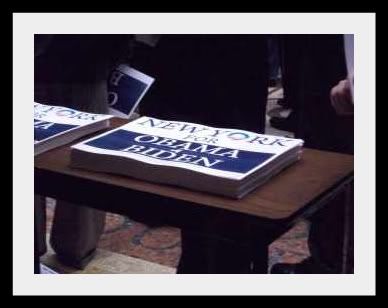 This morning we woke up bright and early with excitement in our bellies. Jakob was bouncing all over the place with energy. The morning was perfect, the fall leaves crunched under our feet and the sun warmed our backs as we walked to American Legion Post #64 to cast our votes.
"Mama, I can't wait to see Barack Obama!"
Silly boy, didn't his balloon deflate quickly when I told him that Senator Obama wouldn't be there personally.
Into the voting booth we go, I scoop Jakob up, show him which lever to press and just like that we are finished. I think he thought balloons and confetti would fall from the sky, I told him he'd have to wait for that until later. I was happy to share the experience with my son. No sooner did we come out of the booth, he went right back in with Daddy! Big day for such a little man!
On our walk home I thought about the promise of change and hoped that all Americans would step up today and exercise their right.
We got to my parents house to drop him off before we headed off to work and he told my parents that he got to "ROCK THE VOTE" this morning!

I hope you did too!