Yesterday I had a whole blog post written out in my head. Then my work day blew up, things got a little crazy and I left without writing it. Now it's gone.
But never fear because there seems to always be something to write about. Today, for example, I want to share with you how yesterday Jakob had a note from his teacher in his backpack. I was sick to my stomach. Apparently he pushed a little girl who was in his way during class which subsequently lead to a time out during playground time. School day #4. I pray to the sweet baby Jesus that this is not how the rest of the year will go.
So, being a first time Kindergarten parent, I emailed his teacher. Expressing my apologizes, letting her know that we spoke with Jakob regarding the incident and reiterated to him what was acceptable and not acceptable behaviors. I also wrote that it was very important to us to keep an open line of communication with her. Jakob doesn't really share much of his school day with us. When asked, school was either "good" or his memory is horrible because we get "I dunno know".
I was nervous to hear back from her, not knowing what to really expect. Wasn't I pleasently suprised?
Hello, Mrs. S,Thank you for your note and for your cooperation. Jakob is such a sweet little boy. It appears you are right on target with the behaviors and I am anticipating that they will diminish as the year progresses. His hitting is not out of frustration- more like a little bear cub-physically looking for "his space." Thank you for teaching him that words can take the place of actions- asking someone to move is better than shoving.I try to write a newsletter every week. As the lead K teacher, I encourageall the K teachers to work as a team with a newsletter called KindergartenTimes- both will contain special K info.If you have specific questions email is great but in an emergency at othertimes my home phone is . I never mind calls- only up to 8:30 PM.Feel free to call.I will keep you updated on the progress.It is now lunch time- Jakob has had an outstanding day so far.-Mrs. (Kindergarten teacher)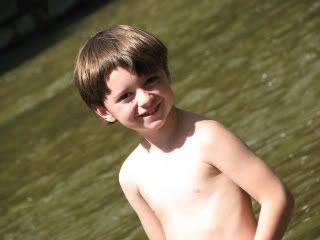 Phew, my little bear cub.