The Vintage Pearl
is a blog I stumbled upon while getting my daily fix of
Nie
. Erin, who runs The Vintage Pearl, sent Nie a beautiful necklace.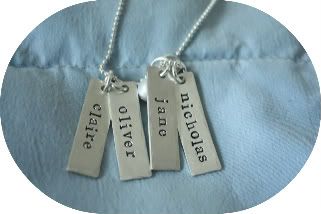 Photo taken from Nie
Erin's beautiful, custom-hand made jewlery is breathtaking. I immediately went to her site and chose a piece for myself. I run every single day to my mailbox hoping that my necklace has come. I love the anticipation!
Erin is featuring a give-a-way on her blog. She is showcasing two new pieces which are fabulous! Secretly, I hope I win even though I have a piece coming...
Her work is special, beautiful, meaningful....I could go on! So run over there quickly and while you are there check out her website and purchase something!
I promise you won't regret it!