We have a very busy weekend coming up. Tonight I am co-chairing the Fall Family Fun Night at my son's school. 500 some people have responded, we have over 300 pumpkins for painting, a dj, a haunted house, face painting, craft corners, story telling....it's going to be a good night. Sadly, with the amount that Aaron and I have been working lately I wasn't able to help out as much as I would've liked and a lot of the responsiblity of the party has fallen on my friend and neighbor, Donna. She's been a real sport...and well she should be because she totally got me to agree to co-chair this while I was daydreaming at the PTO meeting.
Note to self: skip all future PTO meetings.
Last week I request a copy of The Book of Mormon on the internet. I like to read up on different religions and beliefs. I won't be running to Temple but I think it would be nice to learn a bit, never hurts to educate ones self. So I requested a copy of the book. The site asked for my address, which I thought was to mail the book. Last Sunday, as I was rushing to get dinner on the table and then Jakob and I out the door to the Enchanted Forest Walk at the Audubon Society, a knock came to my door. I looked out my window and saw two well dressed young men, I knew exactly who they were and why they were there.
I yelled to Aaron "Mormon Missionaries are at the door...what should I do?!" and he yelled back "Don't Answer It!"
So I didn't. I watched them walk away from my kitchen window, feeling terribly guilty. I contemplated running after them but I was honestly running out of time!
Tuesday night I pulled into my driveway after doing some running around with Jakob and there they were, on my front porch. Sweet boys, really sweet sweet boys. So I talked to them for a bit, they gave me a copy of the book and asked if they could come in. I had to get Jakob bathed and ready for bed and get Aaron up out of bed so he could get ready for work. So I declined the offer but set an appointment to have them come over on Saturday afternoon. I was also honest with them about screening their knock on Sunday to which they laughed and thanked me for my honesty...ahhh Mormon's...so easy going. Aaron was a little put off by my invitation to the elders but heck, an hour or so of spiritual enlightenment never hurt anybody? Right? Say right!
And finally, holy crap this is like 3 blog posts in one, Lia Sophia. There have been 3 Lia Sophia parties in my family in the last 2 months. Yes 3. My party will make 4 but that is not until the end of January...we help each other out for free stuff, don't'cha know? My sister, sister-in-law and best friend have already had their parties and A LOT of jewelery has been purchased. My brother dropped off my necklace this morning and I am in love.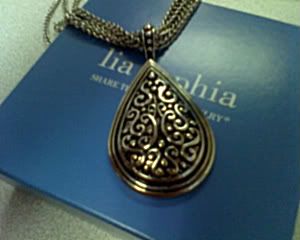 Isn't she pretty? I can't wait to sport this beauty tonight at the Fall Festival
...heck...
I may even wear it for my Mormon friends!
Happy Weekend Everyone!