Our weekend was full.

Friday night I took Jakob to the holiday party at his school. We waited in line forever to see The Big Man and it was well worth it!

Saturday morning bright and early we met up at my parents house with all of my siblings and headed out to the market in search for 5 perfect trees! MISSION ACCOMPLISHED!

Then it was time to write to Santa.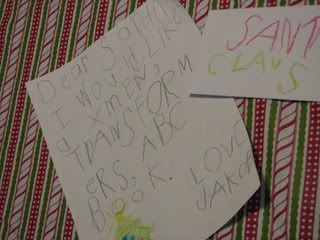 Once letters were completed and mailed, the house decorated, Jakob sleeping with visions of sugar plums dancing, it was time to sit back, enjoy a cute
Christmas movie
, admire my tree and wait for my husband to get home!