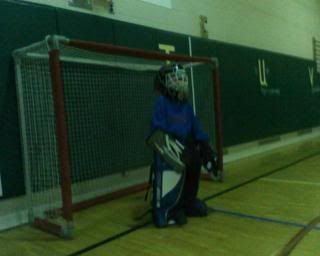 I am a hockey girl. I usually do not miss a Sabres game and if I am lucky enough to get tickets to go downtown to watch a game...I always leave my voice in the arena. So I was tickled when Jakob came home from school with floor hockey sign-ups and expressed an interest in joining the team!

We are in the 6th week of hockey. Jakob is an excellent defensive player...he loves fighting for that puck and clearing it out of his zone. Offensively he really doesn't know what he's doing, he forgets to stay in his zone and the coach is always calling after him to get back on sides. It's kinda funny.

Every kid on the team gets a chance to be goalie. For six weeks Jakob has evaded the position. He hasn't wanted his turn, he stressed himself out at the thought of all the responsibility of a goaltender.

Last night coach checked her roster and saw that Jakob had yet to be goalie. She sent him towards the net where the pads and gloves lay on top. He laid down on the gymnasium floor while his father strapped on his pads, fastened his helmet and helped him stand up. Then he stood there looking ADORABLE!

Here's the thing...
JAKOB ROCKED MINDING THAT GOAL!

...
No one could score on him! He made sliding saves, kick away saves, covered up when necessary...I mean...I sat there with my mouth gaping open! Here all these weeks he was so unsure of himself and then proved to himself that not only could he do it but that he

ROCKED MINDING THAT GOAL!
I am thinking now I am going to have to go out and purchase him goalie pads, gloves and helmet (because he looks so darn cute in it!) so that he can practice, practice, practice!